Fire Captain Mike Mulqueen - A Heroic Survivor and His Story of Survivorship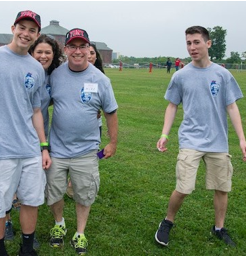 Pictured: Captain Mike Mulqueen has a big smile on his face at the 2017 FDNY Fired Up for a Cure BBQ. With him is his biggest support team: his family, consisting of his wife, daughter, and two sons.
Fire Captain Mike Mulqueen will tell you that "every day is a gift". In August of 2011, at the age of 47, he experienced rectal bleeding. He credits his wife with insisting he gets this looked into. His colonoscopy revealed stage 3 colon cancer.
Shortly thereafter Captain Mulqueen began treatment, which included surgery and chemotherapy. The chemotherapy regimen was difficult and included numerous side effects. After he completed treatment, Captain Mulqueen realized that he could no longer do the job that he loved during his 16 year career. He retired in 2015 and has since focused on restoring his health with regular exercise, acupuncture, and good diet.
Captain Mulqueen credits his medical team at Sloan Kettering and his FDNY Cancer Care Team, especially FDNY Dr. Ellen Koffler and his FDNY nurse case manager, Geraldine Kelly for providing ongoing support. All of his cancer care at Sloan Kettering was provided through at the WTC Health Program at no cost to him.
Captain Mulqueen acknowledges how life changing this experience has been. He reminds everyone "to stay on top of your own health - pay attention to symptoms or changes in your body, and act on those changes". He encourages everyone to participate in available cancer screening. The WTC Health Program provides a wide range of cancer screening tests, including colonoscopies. Mike continues to come in for his annual WTC Medical Monitoring exam and is thankful every day for the support of his wife, family, and his FDNY Cancer Care Team.