Chief David Biesty - A Heroic Survivor and His Story of Overcoming Multiple Myeloma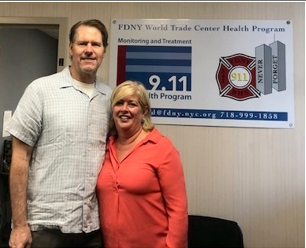 Chief Beisty with Laura Wilson, RN, FDNY WTCHP
In 2012, after visits to many different doctors, Chief Biesty was diagnosed with multiple myeloma, a rare and sometimes fatal blood cancer. Chief Biesty chose Memorial Sloan Kettering for his treatment, which included: chemotherapy, followed by autologous bone marrow stem cell transplant, further treatments and allogenic bone marrow stem cell transplant from a donor.
"It was tough getting through those treatments," Chief Biesty remembers. "It was hard to picture that life would get better. I don't know how I could have gotten through it without my wife, children, my entire family and my fire department family. All of my siblings lined up to provide stem cells – my brother William was ultimately chosen [as the donor]. Members from many fire houses [also] came forward to donate platelets."
Chief Biesty credits the FDNY WTC Health Program, especially his FDNY WTC cancer case managers, Dr. Ellen Koffler and Nurse Laura Wilson, for their step-by-step guidance through his treatment and recovery process. He notes that all required services were provided for free. Since his cancer was eligible for WTC Health Program certification, all of his treatments (including copays, with no deductibles or caps) were paid for by the WTC Health Program.
In addition, Chief Biesty found solace in receiving transportation to and from every treatment appointment, which, at times occurred more than 3 times weekly. The Fire Family Transport Program, working hand-in-hand with the FDNY WTC Health Program, supplied vans driven by FDNY firefighters who volunteer from across the city for members in need. Chief Biesty doesn't know how he would have gotten to and from each chemotherapy appointment without this service and the ongoing support from his fellow firefighters. This support from the WTC Health Program helped him minimize cancer-associated stressors, allowing him to focus on getting better.
Chief Biesty reflected on how his life has changed as his 24-year FDNY career ended due to this illness. He admits that chemotherapy and other treatments have physically taken their toll, but he continues to feel stronger every day with regular activity and healthy eating. He sees his life as returning to a "new normal", albeit a new normal with more time for family. He stays connected to the firehouses and the fellow retirees he worked with and who have helped him through his ordeal.
Chief Biesty is currently in remission. He continues to come for his annual FDNY WTC Health Program medical monitoring visit. His disease remains under close surveillance by the FDNY cancer case managers and his care team at Memorial Sloan Kettering. His message to those facing serious illness is "
stay strong and know it can get better"
.